« Back to Blog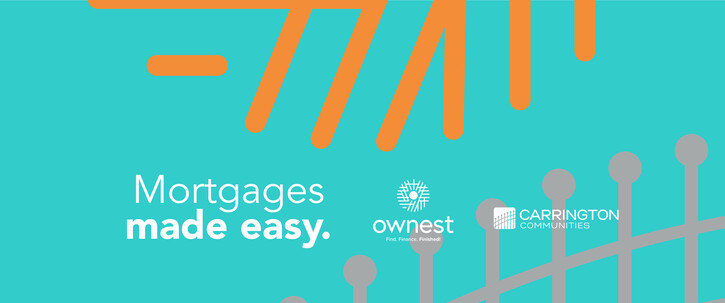 Mortgages Made Easy
Posted on
Carrington Communities and Ownest Financial are excited to announce our new partnership!
At Carrington Communities, our first priority is always our potential and new condo home owners. From our 45 years in business, we put care into our build, our design, and ensuring the buying process is seamless for you. This includes staying up to date with the mortgage application process, and this is where Ownest Financial comes in.
"We shop online for clothing, travel and groceries, why not for mortgages? Carrington is excited to partner with Ownest to offer our customers an alternative to the traditional mortgage application process. It's quick and easy, completed in a few simple steps, and keeps you in the loop throughout the entire process." - Nanette Charest, Carrington Communities General Manager
Ownest Financial has developed a proprietary software that enables our buyers to shop over 120 lenders with over 22,000 mortgage products so you receive the best rate from the comfort of your own home. Gone are the days of relying on a mortgage broker hoping you get the best bang for your buck! Ownest gives you the power to choose your rate and lender based on your qualifications.
"With Ownest, a customer can start the mortgage process on their own time. They start with us right in the sales center, or at home once their busy day is finished. Starting the mortgage process can be intimidating, and this gives customers the ability to easily get started online while having genuine interactions with one of Ownest's mortgage professionals. - Riley Lagaden, Project Sales Manager
Our sales team now has the ability to make the mortgage application process by introducing you to the Ownest Financial software. Ownest is perfect for a busy professional or first-time home buyer who wants to complete the application right there in person, or online in the privacy of their own home. The software gives a broad range of mortgage options so you have choices that suit your lifestyle needs.
The software will also monitor your mortgage monthly to ensure that you have the best mortgage possible. When a better rate or product become available, Ownest will notify you and help you make the switch – at no cost to you. Even if a mortgage isn't approved right away, the mortgage tracker notifies our customers down the road if there is a mortgage product that fits their budget.
Fnd out more by visiting one of our sales centres or getting started with Ownest right away!