« Back to Blog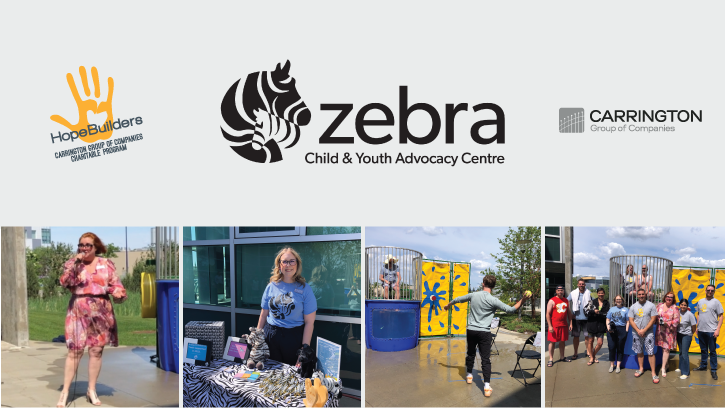 Join Hope Builders in Supporting Zebra Centre: Making a Difference Together
Posted on
At Carrington Group, our mission extends far beyond constructing exceptional homes and communities. We believe in building hope within our communities and creating a positive impact wherever we can. We are proud to present our latest charitable event, which raised an incredible $5100 for Zebra Centre—a remarkable organization that provides support to vulnerable children and families in Edmonton, Alberta.
Zebra Centre: Empowering and Healing Lives
Established in 2002, the Zebra Child & Youth Advocacy Centre is a safe haven for children who have experienced abuse and their families. Committed to breaking the cycle of abuse, the Zebra Centre offers a range of comprehensive programs and services to facilitate healing, empowerment, and justice.
Their compassionate team of professionals includes police officers, social workers, psychologists, and other experts who collaborate to provide a multi-disciplinary approach to child abuse investigations. Zebra Centre not only supports the victims but also assists in the prosecution of offenders, ensuring justice is served and preventing further harm to children.
Making Waves of Positive Change
Hope Builders organized a fundraising event to support the impactful work of the Zebra Centre. Our incredible staff members, dedicated to making a difference in the lives of others, came together to raise funds and awareness for this worthy cause.
The event was a resounding success, generating over $3100 in donations and with Carrington Group topping that amount a total of $5100 will be donated will directly benefit the Zebra Centre's programs and services. The day was filled with fun and excitement, as our staff enthusiastically participated in various activities designed to engage and entertain everyone involved.
The event featured interactive activities that fostered team spirit and friendly competition. The highlight of the event was our Dunk Tank, where employees got the opportunity to dunk one of their co-workers! Carrington Group and its vendors donated prizes to the Spin-To-Win wheel, where co-workers competed to win the coveted prizes including a rise garden, liquor baskets, and more. The hamburger BBQ, donated by Gordon Food Services delicious food brought us all together to share in the joy of giving.
We would like to express our gratitude to the generous vendors who contributed to the success of our fundraiser. Northway Landscaping, Gordon Food Service, TELUS NextHome, The HIVE Product Marketing, Parlee McLaws LLP. 
To learn more about Zebra Centre and the incredible work they do, please visit their website at https://www.zebracentre.ca/.
Stay tuned for future events and initiatives organized by Hope Builders as we continue to uplift and support various organizations throughout Alberta and British Columbia.