« Back to Blog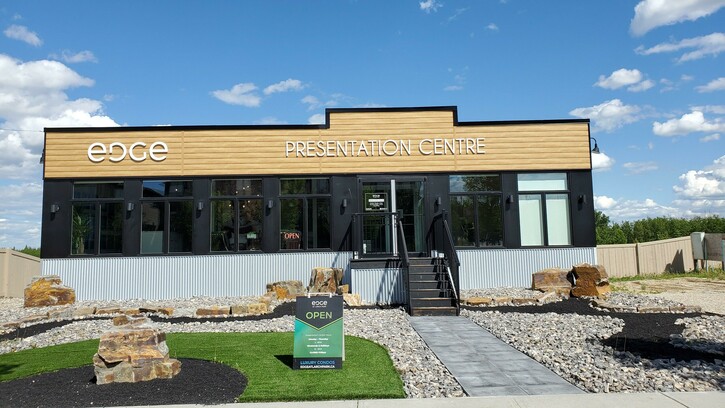 Edge in the news!
Posted on
Edge at Larch Park becomes a family affair
Written by Laura Severs Published by Edmonton Journal on October 17, 2020
It definitely wasn't one of those buy one get one free deals.
But after Carleen Greaves and her husband, Fred, bought a new southwest Edmonton condo, Carleen's mom followed right in their footsteps.
"We were just so happy we took my mom over to show it to her and then she bought one, too," said Carleen about the two new condos purchased in Carrington Communities' Edge at Larch Park.
"Two days later (after our purchase), we took her over right away," said Carleen, adding that her mother, Shirlee White, who lives in Riverbend, really liked it as well. "She's been thinking about moving for a while. She's on her own and her own place is too big for her so she definitely wanted to downsize a bit."
The Greaves were also in the market to downsize as their kids are now much older. They have been bungalow and townhouse hunting on and off over the past few years.
Currently living in and loving the greater Riverbend region, they wanted to stay in the same general vicinity.
Ironically, their new home will be in almost the exact same spot they were about to move to a few years back. At that time, townhomes were being built right across the street from the vacant land the Edge development would later be constructed on. They put money down on one of the townhomes but ultimately decided it wasn't right for them; they really did want a place without stairs.
This time, however, that isn't a concern. The day they visited the project's sales centre they immediately picked a two-bedroom unit right on the spot.
"We really liked the options Edge has to offer," said Carleen. "We were really looking for a one-storey place with no yard work — getting out of the big two-storey house and going to something that is smaller but still large enough to feel like a home. They're really well designed. We feel it would be a good move for us."
Edge at Larch Park is a multi-stage project that will have a more of a community feel to it when completed. Plans are for a total of three condominium buildings and a series of townhomes on the outer edge of the property, which currently is home to a presentation centre near the intersection of May Gate and May Common N.W.
The condos come in one- or two-bedroom floor plans or two bedrooms plus den configurations and are being positioned as bungalow living but elevated.
Joining the Greaves will be eight-and-a-half year old Chewbacca — yes, one of the Greaves, Fred, is a huge Star Wars fan — as the Edge is pet friendly. Better known as Chewie, the miniature Goldendoodle will get to use the condo's pet spa, which includes two wash sinks, a grooming table with access to a vacuum and a dryer, and a secured waiting area.
The dog spa is just one of the many amenities that attracted the family to the project. Others include an outdoor fire pit, a chef's kitchen and social lounge with a double-sided fireplace to host events or enjoy a cooking class, a fitness centre, a yoga studio, an art room, and a games room with televisions.
"Because there are so many amenities it won't be like a typical condo where people go home and shut their doors," said Carleen, who along with Fred got to meet some of their future neighbours at a session Carrington hosted on how to downsize. "It's really attracting people who want to socialize and build a community. The people that we've met have been very like-minded. They're really interested in the amenities and getting to know their neighbours."
Larch Sanctuary
Once fully developed, the plan for Edge at Larch Park is to have 347 housing units, primarily condominiums.
Edge's first building is now under construction and will include some 160 units, though it won't be welcoming its first homeowners until spring or summer 2022.
"The people whom I've sold to, the timing of the building has actually worked out perfect for them … because if they are downsizers they need time go through their home," said project sales manager Christine Pilling.
Located along the western edge of the Whitemud Creek ravine, it's also on the doorstep of Larch Sanctuary, a 59-acre protected nature reserve.
Yet it is also minutes away local shops and services, and a short commute to the Terwillegar Community Recreation Centre, enhanced shopping and dining options in greater Windermere, and Anthony Henday Drive.
"We started excavation early August and we have the first level of the parkade essentially poured and we have almost 40 sales, which is really good in this market," said Pilling.
Pricing starts at $249,900 and units range in size from 852 square feet to 1,898 square feet.