« Back to Blog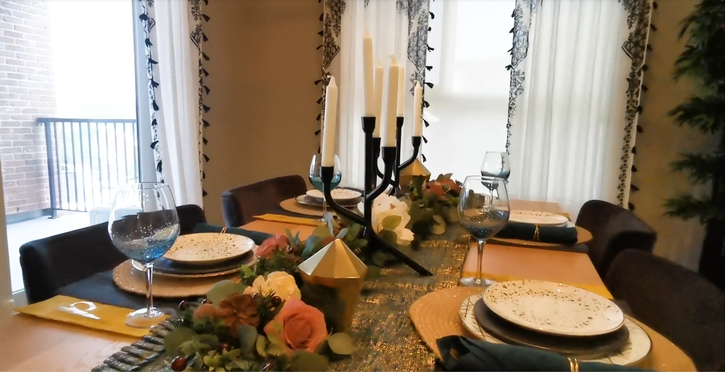 Decorating Your Dining Room Table for the Holidays
Posted on
Decorating for the holidays can be both exciting and stressful with all of the potential aesthetics, designs, and themes to choose from. So this holiday season, we have teamed up with Designer Jennifer Hughes (follow her @turquoisechair on Instagram) and Jenna Johnson Park Lighting & Furniture (follow them @parklightingyeg on Instagram). This Q&A interview gives you all of the insider information from the local professionals. Check out their tips below!


Designing Your Dining Room Table with Jennifer Hughes


Q: What do you look for in a dining room before deciding what type of decor and plating ideas you want to try during the holiday season? 

A: The size and shape of the table are important, as it determines the layout for your decor.  Having a window nearby to give some natural light to the space is also key, especially around Christmas time, to take advantage of that beautiful snow-capped backdrop. Having another serving area like as sideboard or console table is also great (when not using it for food it becomes another great platform for decor)! You can layer mirrors, lay a beautiful evergreen garland across it, add Christmas ornaments, and decorative candlesticks. A stunning light fixture is also important as lighting does complete the space. 
Q: What are the steps you take to create the perfect dining room setting?
A: I like to choose a theme, or colour story when creating a dining room setting, it helps me shop better! I love to find different layers for my setting. Whether that is layering place mats and chargers of different textures, or patterned plates and bowls, and candlesticks.  Create that element of surprise! For example, find some antique wine glasses or an old wooden crate and fill it with wood logs or evergreen twigs. The key is to have fun with decorating for the holidays so you can relax it its surroundings and celebrate with your friends and family.
Q: Which Edmonton stores and outlets do you visit for inspiration and to make your final purchases?
A: A few that come to mind our Home Sense, Simons for place mats and table settings, Crate & Barrel, and H&M. 

Q: Do you have any other tips or tricks for people staging their homes for the holidays?
A: Invest in neutrals. Christmas can get super tacky if not careful. Evergreen is a great choice, find fresh or faux and add in your colour from there! Keep it simple and arrange a mix of Christmas decorations, gold, silver- yes mix your metals! Add some black, matte-black decorations are super on trend and mix a few fresh pine cones in there, and voila!


Going a Step Beyond and Designing Your Dining Room with Jenna Johnson from Park Lighting & Furniture 
Q: What criteria should homeowners use when purchasing a fixture for their dining room?
A: Get the in-depth answer here. 
Q: What are some in-depth reasons that make Park Lighting stand out as the go-to store to shop for light fixtures?
A: There are five reasons to shop at Park Lighting.
Choice. We have the largest showroom in Western Canada, allowing customers to see the size, style and scale of their fixtures. We travel around the world sourcing the hottest trends at value pricing. We also design some of our own products that we have exclusive access to, giving the homeowner an opportunity to own unique fixtures.
Inventory. We have 1000's of items in stock and ready to be taken home same day.
Knowledge. Our lighting specialists are ALA certified and up to date on the latest trends and technology in the lighting industry. We have multiple sales staff who have worked in the industry for 5+ years.
Service. We have an in house service department dedicated to taking care of any after sale problems that may come up. We have on site service technicians available for installation services or repairs.
Community. We have deep roots in the Northern Alberta community, as a family owned and operated business we value giving back to the people in our community. Four Saturdays a year, Park Lighting & Furniture - along with its sister store in Calgary, Cartwright Lighting & Furniture - donate the sum total of the day's sales of each store to one of its chosen causes. Over the last few years, thousands of dollars have been donated to help the Firefighters Burn Victim Society, Hope Mission, The Mustard Seed, World Renew World Hunger Campaigns, help fund homes and services for the mentally and physically challenged through Rehoboth, and other causes.
________________________________________________________________________________
Visit Park Lighting and Furniture at their Edmonton location or visit them online here so you can create your best holiday look. 
Follow us on social media and sign up for our newsletter on our homepage throughout the holidays to stay in the know on downsizing without compromising.