« Back to Blog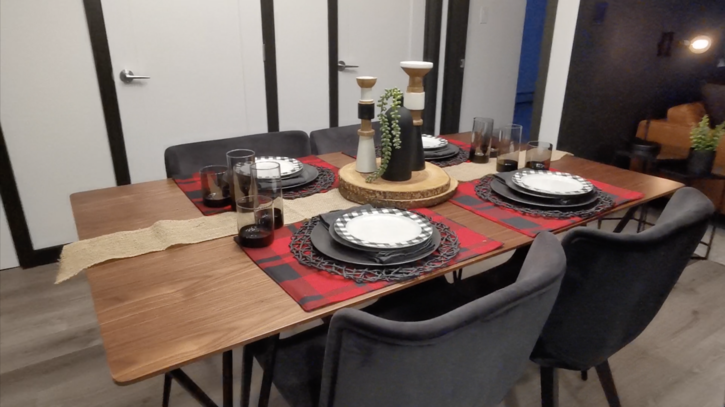 4 Important Things to Consider When Prepping your Dining Room for The Holidays
Posted on
This holiday blog was written by Jenna Johnson - Park Lighting & Furniture 

Follow everyone on social media:
Park Lighting & Furniture on Instagram @Parkfurnishingsyeg and @Parklightingyeg
Carrington Communities on Instagram & Facebook @CarringtonCommunities
Jennifer Hughes on Instagram @Turquoisechair
________________________________________________________________________________
Celebrate Your Home This Holiday Season with Park Lighting & Furniture, Carrington Communities, and designer Jennifer Hughes. 


Evenings around the dining table are some of the most nostalgic memories we carry in our lives; the warmth of the room, the comfortable seating, the sensational smells of food cooking in the kitchen. From Breakfast and brunch to dinner and late night board games, many fond family memories are made around the dinner table.
There are 4 simple factors in creating the ultimate dining room for the holiday season: table selection, seating selection, lighting selection, and atmosphere.
Table Selection
Choosing the shape for your table is the first step in selecting your table. There are pros and cons to each shape.
Round

Excellent for small spaces, especially if there is a pedestal base, which allows for chairs to sit closely together
Doesn't have sharp corners to walk around or intrude into the room.
Creates the most intimate of dining options.
May not suit a long, narrow room.

Oval

A more space efficient option to a rectangle.
Creates a cozy, intimate seating area.
One of the more traditional styles of dining tables and may not suit every style.

Square

Functions well in rooms where space is limited or in square rooms.
Slightly more intimate dining than a rectangle.
May not suit a long, narrow dining room.

Rectangle

Perfect for a long, narrow dining space.
Works well to divide up a large, open concept home.
The longer the table, the less intimate the dining experience can be.
Size & Placement

Each person at the table needs:

Approximately 24" of width
At least 12" of depth to spread out and eat comfortably.

For example, a 3' by 4' table would seat 4 people, 2 on each side. For every 12" length added 2 more people can be seating, on one each side.

The average dining table sits at 30" tall and chair seats sit at 17"-19" high. Be sure to allow at least 12" from table to the top of the chair seats.
Generally speaking you don't need to base your table size on the size of your room. However, you will want to ensure your guests are able to walk around the table while others are still seated.

Allow for at least 42" between the table edge and nearby walls or furniture.
Be sure that your dining table is not too small for your space; if you have a long narrow room, a small round table would looked dwarfed in the space.


Seating Selection
Arm chair vs Arm-less

Arm Chair

The more formal looking option for dining chairs.
Can take up more space than arm-less chairs.
A perfect way to add personality to the dining room.
Often function best at the head of each table.

Arm-less Chair

Many styles and comfort levels to choose from.
Can sit closer together, allowing more chairs at the table.
Fabric vs Leather vs Wood/Metal

Fabric

The more warm and cozy option.
100's of styles and patterns to choose from.
More options to add personality to the space.
More difficult to maintain and keep clean.

Leather

Many colors and styles to choose from.
Cooler to the touch, which can sometimes make the room feel cool.
Moderate to maintain and keep clean.

Wood/Metal

Easier to maintain and keep clean.
Less comfortable.

Bench or Banquette Seating

Perfect for fitting larger amounts of people into the same space, since you typically sit closer on a bench than you would a chair.
Often pushed up against a wall, allowing the a larger table into a narrower room or corner.
Can be more difficult for multiple guests to get in and out of the seating area.


Lighting Selection
Shape

Round

Perfect for a square room or when using a round or square dining table.
The most common dining fixture choice, when sized properly it can have a big impact.
If you have a long narrow space, it may be more appropriate to use two or three round fixtures.

Linear

Gaining popularity, this fixture works to perfection over a rectangular or oval table.
If fixed with a large mounting bracket, this type of fixture allows flexibility for centering in a space.
If moving dining table around when hosting large groups, this fixture can protrude more into the space.

Multiple Pendants

Arranged to complement the shape of the table, either grouped together for circular tables or in a row for rectangular tables, this is the most flexible choice.
A more unique style choice, than the traditional single fixture.
A great option of your electrical box is not centered and you need to move it over slightly.
Size & Placement

There are 2 ways to calculate the proper size of your fixture.

Based on the Size of the Room
Based on the Size of the Table

The fixture should be at least 12" smaller than the table in all directions.
If using a round fixture, ensure that it is ½ to ¾ the width of the table.
If using a linear fixture, ensure that it is 1/3 to 2/3 the length of the table.

The bottom of your fixture should sit 30"-36" above your table in a standard 8 foot tall room. Increase that number of 3" for every 12" of increased ceiling height.
Up-lighting vs Down-lighting

Up-lighting refers to fixtures that shine the light up toward the ceiling.

Creates a widespread, over-all light.
Reduces glare from the eyes.
Softer, warmer light.

Down-lighting refers to fixtures that shine the light directly down on to the table.

Creates bright light onto the surface of the table, with shadowing in the rest of the room.
Can create glare in the eyes of those dining at the table.
Perfect for dining rooms that host a lot of game nights, homework studies or morning crossword puzzles.
Atmosphere
Layers

The most comfortable way to light a space is with layers; chandeliers, wall lights, table & floor lamps and natural light are all ways to layer lighting and create the perfect mood for every occasion.

Dimmer switches

Dimmer switches not only help create the perfect ambiance, they have other benefits too.

Allow for large amounts of light when reading, playing games or cleaning in the space.
Lower your power consumption, saving money and better for the environment.
Light bulbs last longer when used with a dimmer switch
Candlelight, Music & Great Company

The finishing touch of every dining room is the warmth each person adds with their own personal touches; candle light, music and great company are always the best way to ensure a welcoming atmosphere.
________________________________________________________________________________
Visit Park Lighting and Furniture at their Edmonton location or visit them online here so you can create your best holiday look.