« Back to Blog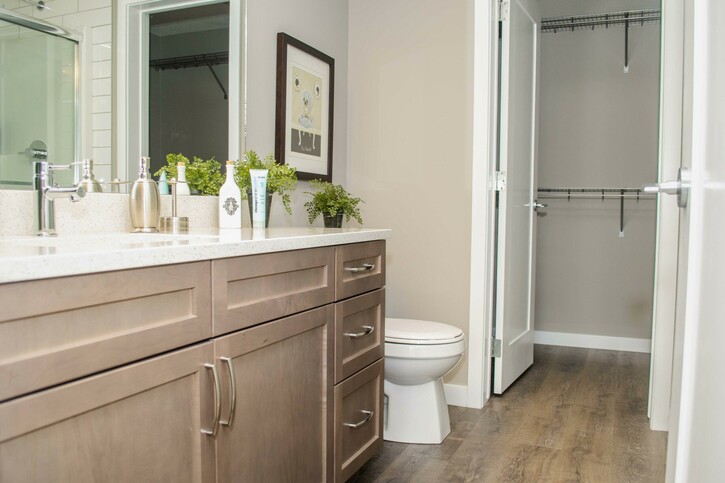 Edmonton Apartment Costs: Ultimate Guide
Posted on
Being financially prepared for renting an apartment means being aware of all the hidden costs. In addition to your monthly rent, you'll need to pay for utilities, internet bills, and other expenses that come along with living in an apartment. It's also crucial to know which factors increase these costs, what locations offer lower costs, etc. 
Let's dive into Edmonton's apartment costs!
Utilities
Including gas and electricity, the cost of utilities in Edmonton can range from $150 to over $500 per month if you live in a large household. The good news? Often times, your apartment rent actually includes most of these costs, and you only need to pay for electricity, or some combination of gas/water/electric.
The majority of Edmonton apartment renters boast low monthly utility bills, without needing to worry about limiting hot baths or cooking with an electric oven frequently.
It's tough to beat apartment utility costs in Edmonton – renting a house or a basement suite still leaves you on the hook for high utility bills, so make the most of apartment living and don' worry too much about utility costs!
Internet
Internet services can range from $30 a month to over $100, depending on your plan. Another option is bundling your internet, phone, and television services, which ranges around $100-$200+. You may have to call around to find out if your building has fibre optic cable or not before you commit to a plan, so make sure you check and don't just sign up online!
Renter's Insurance 
What is renter's insurance? It actually doesn't protect the property; instead, it protects your own belongings. In addition to protecting your belongings up to a certain dollar amount, renters insurance also provides liability coverage. This means if someone is injured in your home and sues you, you have coverage to the extent of your policy. Renter's insurance is typically a requirement when signing a tenancy agreement, and you can find reasonable policies for less than $50/month in Edmonton.
Security Deposit
Another standard Edmonton apartment cost you'll have to pay is a security deposit (also referred to as a damage deposit). This will usually cost you one month's rent but it can increase or decrease depending on how furnished the space is or whether you have pets. If the property is furnished, you can expect to pay a slightly higher deposit.
Most rental properties come unfurnished but will still include the bare minimum (like carpets/flooring, window coverings, the main kitchen appliances and heating). The typical appliances you can find in an unfurnished property are: furnace/heating, dishwasher, waste disposal, oven/stove, microwave, fridge, washer/dryer, air conditioning and central vacuum.
This deposit covers damage to the above, or if you fall behind on rent, it can serve to protect the landlord from non-payment. Return your apartment to its original condition before you move out, though, and you should receive the deposit back in full (so it's less of a true cost)!
Edmonton Apartment Facility Costs
Laundry Costs
Apartments in Edmonton will sometimes offer onsite laundry facilities such as laundry rooms. If your unit does not include ensuite laundry appliances, you will need to plan for coin laundry costs in addition to your rent. It's a standard Edmonton apartment cost for most older buildings, although you'll find that many newer buildings offer units with the ensuite appliances.
Parking Costs
In terms of parking, you may have to pay an extra fee which can range from $10 to $100 per month. Covered energized parking stalls will cost more, of course, so be sure to ask the facility manager what types of parking units are available prior to signing.
Amenity & Storage Costs
Apartments can have extra facilities such as a gym, swimming pool, a hot tub, etc. These are typically included in the rent, unless otherwise stated in your lease agreement, so be sure to double check.
Some complexes offer extra storage space too; your landlord or property owner will have exact costs for this type of service, although you can generally expect anywhere from $30 to $100 per month, depending on the size and your building's location.
Pet Costs
Finally, some apartments allow for small pets, charging a small non-refundable pet fee, usually around $250 per pet.
Edmonton Apartment Costs Summary
Edmonton apartment costs are fairly similar to other regions in that you will be responsible for some things beyond just the rent – electricity, internet, and renter's insurance are among the most standardized extra costs.
Be conscious of how these costs will add to your monthly budget, and don't be surprised when your first bills start showing up on top of your rent expense! However, know that in most cases, a large portion of your overall monthly expenses are included in the rent and (especially in the case of utilities!) they will be less than if you rented an equivalent space in a basement suite or a house.
The final piece of advice: be a proactive renter and understand your tenancy agreement! Most (if not all) of the details of any potential extra expenses will be covered in that document, and you'll be prepared to budget accordingly even before you sign on the dotted line.