« Back to Blog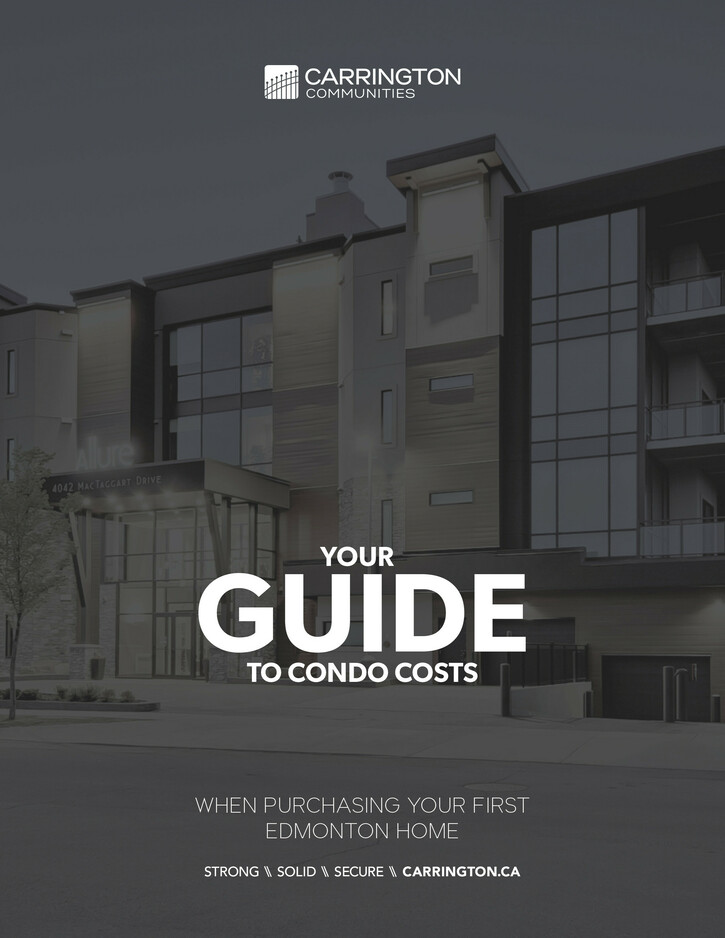 Your First Time: The Guide to Edmonton Condo Costs
Posted on
 Purchasing your first Edmonton home.
There's nothing more exciting than purchasing your very own condo! With Edmonton currently in a buyer's market, it's time to take your next big life step. 
However, there are a lot of questions for first-time homebuyers in Edmonton!
Carrington Communities is here to make sure you're prepared with your first-time home buyer's bundle. This snippet focuses on all of the associated costs you may not expect when purchasing your first home, so you have an idea of how much you really should have put away.
EDMONTON CONDO FEES
Buying a condo is great if you're looking for a maintenance free lifestyle…no shovelling the sidewalk in the winter or keeping your thirteenth pet plant alive in the summer! Living in a condo can save you a lot of time and hassle in terms of home maintenance, giving you the freedom to spend your time elsewhere.
This system is funded by condo fees (sometimes called strata fees) – a set amount of money each month that covers things like building maintenance, repairs, and often some utilities and building amenities. Each condominium complex has a condo association which oversees how condo fees are decided and allocated. As an example, Carrington condos have fees which are approximately $0.35 per square foot in our Elements condos, which is typical of average condo fees in Edmonton.
PROPERTY TAX ON EDMONTON CONDOS
Property tax is the deduction you will pay on your condo based on the value of your property. It's important to note that property tax is decided by the City of Edmonton, and not the condo association.
For first-time home buyers purchasing condos costing between $150,000 - $250,000, expect to pay between $1,362 - $2,270 for annual property taxes in Edmonton. The City of Edmonton website has a property tax calculator for easy assessment and current tax rates here. There is also the possibility to pay your property tax monthly with your mortgage so you don't have the added hassle of one more monthly payment.
When purchasing a home there may be an adjustment in your closing statement to account for any property tax paid ahead of time. You can expect to hear from your municipality to set up your own payments shortly after you take possession.
DO CONDO FEES INCLUDE PROPERTY TAXES?
As mentioned above, your condo fees will cover a lot of the general costs of home ownership. However, your property taxes are paid to the City of Edmonton and not the condo board or association, so no, they are not included in the condo fees.
MOVING COSTS
You're all ready to get out of your rental and into your first home, but the move can be pretty tough! There are many important choices to make, from which moving company, to how are you going to properly pack up the crystal it arrives at your new home intact?
If you are looking to truly make your first condo your home, you'll want to decorate and order new items to personalize your space. It's great to pre-order décor you're missing so it comes as soon as you move in and schedule movers to make moving day stress free. Companies like Move Coordinators offer Edmonton services at competitive rates and even give helpful resources like a moving checklist. You can even use the cost of movers as a tax write-off (just make sure you keep your receipt).
For the full guide to condo costs when purchasing your first Edmonton home, download the PDF below. You will gain access to all of the information you need to know regarding lender application fees, closing costs, insurance, utilities, and overall takeaways!
You can access all of our resources and information for first time Edmonton home buyers here, so you are equipped with the information you need to purchase your first condo in the Edmonton market. We're excited to be part of your journey to owning your first home, and are happy to answer any questions you may have about our communities or the process. You can get in touch with us here. 
Be sure to follow us on social media and subscribe to our newsletter at the bottom of our homepage for info and  guides on mortgages and other Edmonton home-buyer questions.