« Back to Blog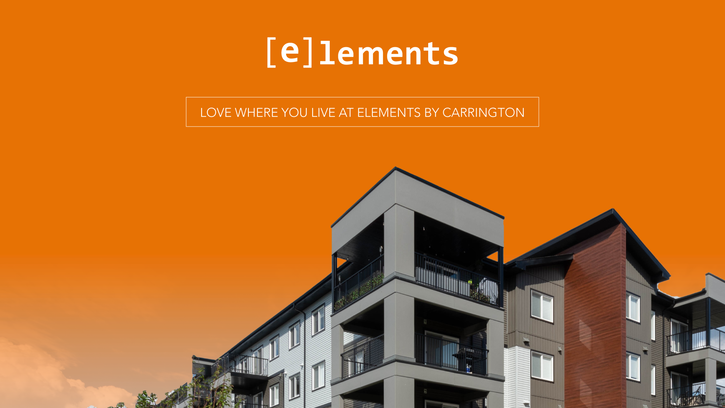 Love Where You Live at Elements Condos!
Posted on
You can own for less than rent at our Elements communities, opening up your new homeownership goals and helping you achieve the lifestyle you wish for.
Prime Locations
At Elements by Carrington, we are picky when it comes to land and where we choose to build our communities. We only develop them in highly desirable locations that are close to neighbourhood amenities, commercial and retail stores, majors roads, and transit.
Elements Windermere is a new development in the highly desirable neighbourhood of Windermere. Located across the street from a K-9 public school, Elements Windermere is within walking distance to major commercial stores like Superstore and the many restaurants nearby. This is convenient and affordable condo living for those looking to live in southwest Edmonton's most upbeat community.
Elements Manning is the northside redefined! Living at Elements at Manning means you own and live for less than rent. Our new development is walking distance to transportation AND has immediate access to major northside routes like Manning Drive and Anthony Henday Drive. At Elements Manning you'll find an array of amenities close by, including Manning Town Centre, a playground, and Manning Village Off Leash Dog Park right across the street, a perfect pet-friendly fit for your new home.
Designer Details
At Elements, there us no need to sacrifice your desire for modern design details for price. Our condos come standard with quartz countertops, two-tone cabinets *extended to the ceiling, full height backsplash, luxury vinyl plank flooring, stainless steel appliances, and pot lights. We have chosen a contemporary grey paint colour for the interior walls, sure to work with any colour scheme or design you choose.
Affordability Factors
When we say you can live for less than rent at Elements, we mean it! We talked to Riley Lagaden, Project Sales Manager at Elements Manning, who gave us the example below:
Purchase price = $207,800+gst
If you put 5% down on that amount (the minimum downpayment), that will equal $10,910. Using an approved interest rate of 2.14% on a fixed 3 year term over 25 years, your monthly mortgage payments will be $891.80
Factor in condo fees- which cover heat, water, sewer, waste removal, building insurance, and general maintenance (including snow removal!), at a monthly cost of $357.53 your monthly housing costs come in at $1249.33.
For a two bedroom, two bathroom condo that includes two parking stalls, that's a steal compared to rent!
Pet Friendly
Pets are welcome at our developments! We love seeing your furry roommates throughout the halls and outside for walks. Our Elements By Carrington locations are perfect for dog walking with many off leash parks located nearby, and a variety of pet stores can help enrich their lives with toys, treats, and games.
There are restrictions when it comes to what kind of pets you can have in your building, and how big they can get. Those regulations are set by the condo board.
Customer Focus
We take pride in every condo built by Carrington. We are committed to delivering a finished, quality built condo so you can feel secure that our job extends beyond the turnover of your home.  
Your condo will come with a 1-2-5-10 Year Warranty package guaranteed through warranty providers in Alberta to ensure you get the best experience in your home buying process.
You are entitled to a 3-month and 12-month post-possession warranty request to take care of the defects or repairs that may need attention since you moved in. 
Your Warranty Coverage
1 Year – Labour and Materials
Covers any defects in materials and labour related to how the home was constructed and materials used. This may include things such as flooring, staircases, baseboards, cabinets, railings and other trim and fixtures.
2 years - Delivery and Distribution systems
Covers defects related to the electrical, plumbing, heating, ventilation and air conditioning delivery systems.
5 years - Building Envelope Protection
The building envelope is the shell of the home, including the roof and walls. It is the separation between the interior and exterior environments of a building, which protects the indoor environment and facilitates climate control.
10 years - Major Structural Components
Major structural consists of the frame, including the roof's structural integrity, and the foundation.
Enjoy a worry-free condo lifestyle that you can afford at Elements by Carrington! Contact a sales associate to start your condo-buying journey today.
Elements Manning – 148 Ebbers Boulevard, Edmonton, Alberta
Project Sales Manager: Riley Lagaden 
T 780-705-9035
E manningsales@carrington.ca
Elements Windermere - 394 Windermere Road NW, Edmonton, Alberta
Project Sales Manager: Suzie Kropp 
T 780-469-6976
E windermeresales@carrington.ca
Showsuite Hours:
3:00 - 8:00 p.m. - Monday to Thursday
12:00-5:00 p.m. - Saturday, Sunday and Holidays
Closed Friday