« Back to Blog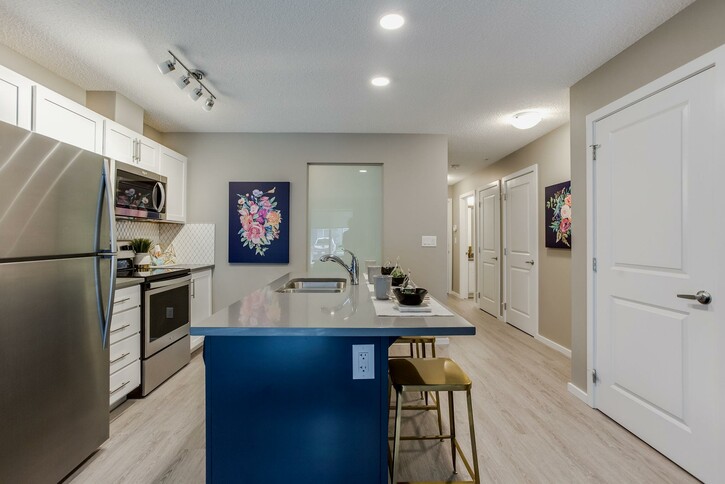 Buying In Today's Market
Posted on
You may be thinking now is a good time to get out of your rental and into a new home or condo of your own. It is an enticing time to think about buying, given low interest rates and ideal prices for housing we're seeing today.
Ideal Housing Market
There are many benefits to owning your own home, including:
Housing is generally a good investment in the long run, you may have to wait to see a return but eventually you will.
While you're waiting you will build your own equity, not your landlord's.
Owning your own home provides you stability – consider the fact you can have a fixed mortgage rate secured for up to 5 years, and you won't have to worry about rent increases or moving every year when your lease renews.
Right now, with low housing prices you can purchase a two-bedroom Elements by Carrington condo for as low as $162,740 + GST. The Argon III is a former showsuite available for immediate possession, it includes 755 sq. ft. of living space and one surface parking stall. Take current interest rates into account and your monthly mortgage cost on this 2-bedroom unit is approximately $688 per month, with a 5% down payment at a lending rate of 2.45% over 25 years.
According to Rentboard, the average rent rate in Edmonton for a two-bedroom apartment is $1230 per month, which is 45% more than what you would be paying for a monthly mortgage!
Cost Considerations
However, when you are considering to purchase your own home, you not only need to compare your estimated mortgage cost to what your monthly rent is, you should also consider the costs associated with owning a home to see if it's the right choice for you. You can start by using our handy Ultimate Guide to Condo Costs as a starting point to determine those costs.
After you consider the all the costs associated with owning a condo, there is a chance you may still be paying an amount equal to rent each month, but the difference is now you own your home and can experience the benefits of home ownership.
Conclusion
Whatever your motivation is for purchasing your own home right now, you can be assured that you will find independence in living for less than rent with an Elements by Carrington condo in Edmonton. Contact one of our community experts today to start your journey into home ownership.